Custom-Formulated Adhesive for Diagnostic Test Strips
Hi-tech products manufactures HT-187, a high quality, competitively-priced acrylic pressure sensitive adhesive. HT-187 is specifically engineered for diagnostic test strips and lateral flow devices. This custom-formulated adhesive is compatible with all types of membranes, wicking material, conjugated pads and filter media.
HT-187 is identical to GL-187. HT-187 is widely used in both the US and International Markets.
Lateral Flow Test Strip
Hi-Tech Products has years of experience manufacturing diagnostic components. We can slit and lay down multiple membranes in our state-of-the-art humidity controlled clean rooms.
Hi-Tech can supply or convert customer-supplied membranes (with or without backing), conjugate pads, absorbent pads, and custom materials can easily be converted into diagnostic and lateral flow assay cards.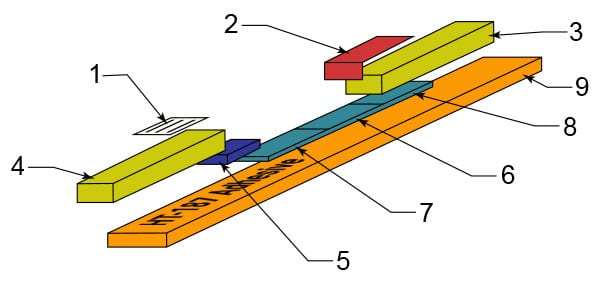 1) Printed adhesive tape with maximum dip level.
2) Cover adhesive tape
3) Wicking pad / Sample
4) Wicking pad / Sample
5) Conjugate release pad
6) Antibody
7) Antibody
8) Membrane
9) Plastic Backing film with HT-187
Hi-Tech Products specializes in helping you get your diagnostic test to market quickly.